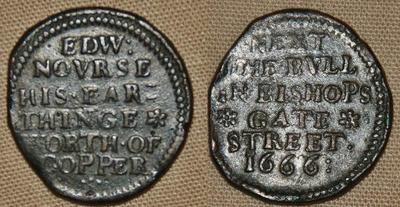 The history of Charlbury through ..... a 1666 trade token
It is easy to miss this unique trade token displayed in the 'Mini-museum', only 27mm in diameter. However, this copper coin found in a garden in Brown's Lane, Charlbury, has a special resonance and story to tell. The date 1666 immediately strikes a calamitous note as the year of the Great Fire of London; centuries later, 2020 is now marked with its own catastrophe. 
Cyril Turner found the token in his garden(now owned by Beechcroft), close to The Bull Inn , in the mid -20th c. The mystery of why and when this 17th century token was left hidden in the earth of Charlbury, far from its London origins, remains unsolved. But the clarity of the inscription gives other clues; this token, a 'FARTHINGE WORTH OF COPPER' was issued by Edward Nourse 'NEXT THE BULL IN. BISHOPSGATE STREET' ; in the Restoration era this street was buzzing with taverns and coffee houses. Edward Nourse was a girdler (belt maker), listed as a master in The Girdlers' Company with the royal patronage of Charles 11. Bishopsgate Street was one of the few areas of the city which was mainly spared during the Great Fire.
Traders' metal tokens first appeared in the 17th c. The failure of Parliament to provide small denomination coinage drove traders to issue their own. The trader's tokens could be used to pay for goods in their shop or within the neighbourhood of the trade token. In 1672 the first copper coinage of England was minted and tokens became illegal.
Edward Nourse's tale aptly concludes with an Oxford connection and enters the medical world: his grandson (Edward Nourse, born Oxford 1701) was a famous surgeon at St. Bartholomew's Hospital
A token, discarded as 'not worth a brass farthing', reveals a wealth of history.
Sue Rangeley
The Museum of London has three Edward Nourse tokens. www.museumoflondon.org.uk 
Trade tokens: www.britishfarthings.com 
The Girdlers' Company www.girdlers.co.uk