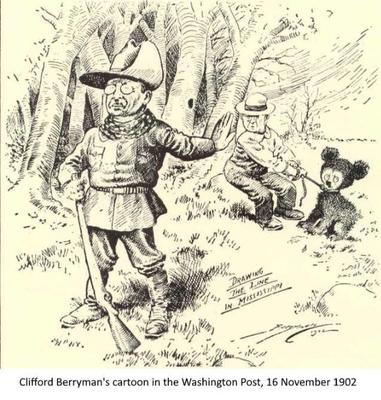 History through ..... a teddy bear!
Something different for Easter
Many of you will have seen the Teddy Bears looking out of windows all round Charlbury. We thought it would be fun to find out the history of teddy bears.
1902 President Theodore (Teddy) Roosevelt was taken on a bear hunt in Mississippi. He was invited to kill an American black bear which had been captured and tied to a tree – but he refused as it was unsportsmanlike. A cartoon appeared of the President refusing to shoot the bear, a drawing which quickly became famous.
Rose & Morris Michtom ran a sweet shop in Brooklyn, New York, and Rose sewed soft toys to sell in the shop. Seeing the cartoon, they were inspired to create a tiny soft bear cub. After sending one to Roosevelt to get his permission to use his name, they put it in the shop window with a sign "Teddy's bear", a name that has stuck ever since. By coincidence at the same time the German firm of Steiff started to make bears too and marketed them in 1903. Early bears often had jointed arms and legs and were covered in tawny mohair.
For children: Can you make an Easter bonnet for your teddy from materials lying around the house? Hats are easy to make from old cardboard packets. Decorate them with 
Easter rabbits from paper, strung round the hat
Daisies made from fabric     Lambs made from cottonwool
Baby chicks (paper ones not real!)     Paper Easter eggs 
We'd love to see any bears wearing hats you have made. You can put photos up on our Facebook page https://www.facebook.com/CharlburyMuseum
Sue and Judy