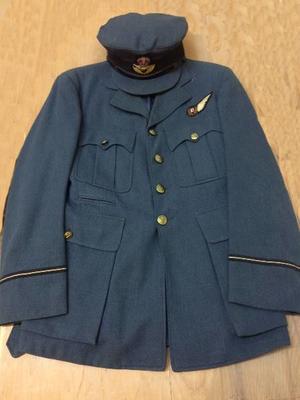 VE Day 75: looking for stories and photos from Charlbury in WWII
Friday 8th May marks 75 years since the end of WWII in Europe. To link with this, the museum is mounting a display of memories and objects to show what life was like in Charlbury during the war. We have devoted two cabinets to telling how Charlbury resembled a garrison town, how Charlbury's own 'Dad's Army' was formed, how evacuees fled here to escape the bombing in London, and how people coped with rationing and entertained themselves.
Do you have any family stories, photographs or items from Charlbury in the war years which you would be willing to share with us? We have already been fortunate enough to be loaned a RAF uniform by the family of Joe Harrison who served in 207 Squadron in Lincolnshire (see photo).
We plan to have a pin board to record stories and reminiscences from Charlbury people from that time. Can you help us add to the board? If so, please do get in touch with either Sue on 819133 or Judy on 810109 or contact us through this website.
Many thanks,
Charlbury Museum Committee