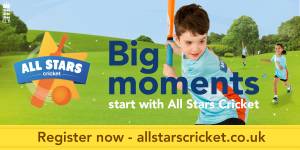 ECB All Stars Cricket - Booking Open from 27th February
We are very excited to be running All Stars Cricket at Charlbury Cricket Club for the fourth year, on Friday evenings from 5.30pm to 6.30pm. We are looking forward to welcoming new children and parents to the club and introducing Cricket to a new generation.  All Stars in a great first introduction to Cricket.
Our All Stars programme is aimed at children who are in Reception, Year 1, 2 & 3 at Primary School. We offer Under 9s cricket for those who have been through the programme already, and have experience. If you have any doubt about whether All Stars is right for your child please drop us an email at charlbury.allstars@gmail.com
By registering for All Stars Cricket, your child will be guaranteed eight weeks of jam-packed fun, activity and skills development. The programme is suitable for all children new to cricket and sport as the sessions are designed to teach the basic skills of the game. Every child will earn stars as the weeks progress that match the skills learned during the programme:
Batting – hitting a moving ball
Throwing – underarm and overarm
Catching – small and large balls
Bowling – overarm
Running – lots of movement
Teamwork – fun games with friends
Communication – the basics of cricket
Spirit of Cricket – how to respect others
Every child that registers will receive a backpack full of goodies including a cricket bat, ball, activity book, personalised shirt and cap all sent straight to your door.
How do I sign up for All Stars Cricket?
You need to register directly with the ECB via The ECB All Stars Website
A Westbury · Fri 28 Feb 2020, 13:17 · Link