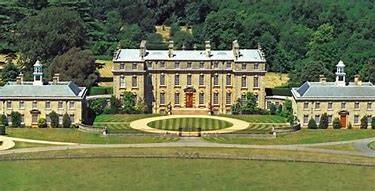 Ditchley Foundation News
This year has been a busy one at Ditchley with progress across not only our programming but in continuing to sustain and enhance Ditchley Park and its extraordinary impact on visitors. Given the scale of the crises we face today – environmental, technological, political – we are increasing our ambition, activity and our drive to raise funds to further our work.
To effectively engage a diverse range of audiences we have significantly improved our technological capabilities which has included the completion of our long awaited ultrafast broadband connection and further progress on our digital archive project. The Bridge is the first flagship project in Ditchley's painstakingly crafted plan to rise to meet the complex challenges of our time. We are integrating cutting edge video technology into the restoration of our historic library with the aim of fostering genuine connection between people in a traditional and intimate atmosphere. This project is due to launch in early Spring next year.
Highlights in our summer programme were the Festival of Ideas and the Annual Lecture chaired by Mark Carney, Governor of the Bank of England. Our most recent conference at the beginning of December – Trust: in leaders, experts and institutions. Where and why has it gone and what can we do to renew it? – brought together an eclectic mix of politicians, government servants, campaigners, commentators, technology innovators and business people to address these issues in support of the renewal of democratic societies, states, markets and alliances. One participant commented:
"The diversity of participants, in terms of gender, class, expertise, and background was remarkable and welcomed. The intimate Ditchley environment plays out as a microcosm for the everyday of our worlds. It is heart-warming as we acknowledge those situations and support one another to overcome them. It is by doing that the minds and hearts open to new experiences. And in that, the conference makes a difference to bridge divides."
Expanding our work to new audiences is a key strand within our campaign - The Ditchley Project - as we seek to convene global conversations of the complex challenges and opportunities we all face and we hope you will be interested to read more about our news here: https://www.ditchley.com/news
Marjorie Glasgow · Sat 28 Dec 2019, 13:38 · Link