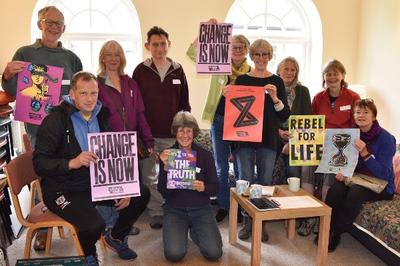 Charlbury climate rebels hit the London streets
Over the course of the coming two weeks, as many as 15 local members of Extinction Rebellion (XR) will be joining protests and roadblocks in London.
About 130 people recently attended a talk in the Memorial Hall which outlined the science behind the group's three demands. These are (1) that the government declares a 'climate emergency' (it has), (2) that the government acts on this, follows the science and puts in place policies to make Britain carbon neutral by 2050 (it hasn't), and (3) that to avoid the dangers of party politics it sets up a citizens' assembly and commits to implementing its recommendations (it hasn't done this either, though some local authorities are doing so).
XR's methods are grounded firmly in the principles of nonviolence and, as befits an emergency situation, interrupting the machinery of government and daily life until politicians take notice. There is extremely little time left to reduce the chances of mass worldwide starvation and extinction across a wide range of species, including humans.
Follow Extinction Rebellion Charlbury on Facebook, and email xrcharlbury@gmail.com for more information.
The photo shows some members at a planning meeting on Saturday.
—————
Rosemary Bennett adds: Very proud that 1000 Mile Highway will be playing at the Extinction Rebellion march in London on Saturday. See them at Millbank at 4p.m.
We hear the police have confiscated the stage, so the gig has been cancelled.
Jon Carpenter · Mon 7 Oct 2019, 09:30 · Link