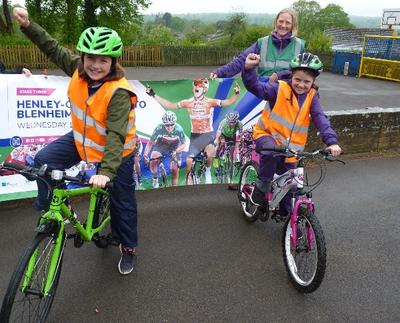 School children inspired by OVO Energy Women's Tour
School children across Oxfordshire have been inspired to cycle safety, get healthy, and be creative in readiness for the OVO Energy Women's Tour coming to Oxfordshire this Wednesday, 12 June.
Year five students at Charlbury Primary School have been inspired by the race coming through their town on Wednesday.
Beatrice Peters, 10, said: "My dad really likes cycling and told me about the race. It is pretty cool and exciting that it is coming to Charlbury.
"It is a really good thing for women's cycling."
Ten-year-old Adelaide Butler added: "I really like women's football and it's great to see a special women's cycle race. I can't wait to see them."
Pupils at the school recently underwent Bikeability training which helps them cycle safely and with confidence.
School Business Manager, Catriona Pitt, said: "This is a really positive event for the children and sends out a fantastic message to both girls and boys.
"It encourages them to be more active and engaged in cycling and we intend to be really involved on the day."
(from an Oxfordshire County Council press release)
Mon 10 Jun 2019, 11:48 · Link