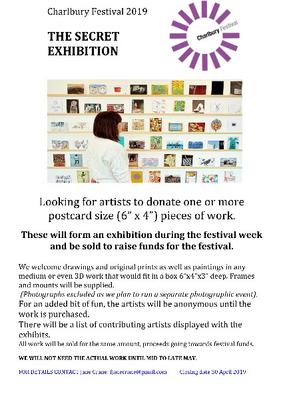 Charlbury Festival: The Secret Exhibition
We are looking for artists to donate one or more postcard size (6" x 4") pieces of work. These will form an exhibition during the festival week and be sold to raise funds for the festival.
We welcome drawings and original prints as well as paintings in any medium or even 3D work that will fit in a box frame 6"x4"x3" deep. We will provide the frames and mounts.
To add an element of intrigue, the artists will be anonymous until the work is purchased. There will be a list of contributing artists displayed with the exhibits.
All work will be sold for the same amount, proceeds going towards festival funds.
WE WILL NOT NEED THE ACTUAL WORK UNTIL MID TO LATE MAY. 
FOR DETAILS CONTACT Jane Crane: fjanecrane@gmail.com 
Closing date 30 April 2019
Tony Lloyd · Wed 27 Feb, 13:17 · Link