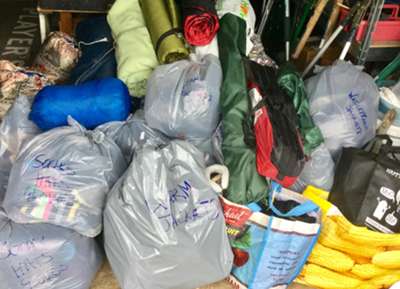 Another load of donations for Calais

Sleeping bags, blankets, tents, warm clothing, socks, underwear, scarves and hats, tough footwear, soap, deodorant, a couple of mobile phones -- and more besides, all collected in the Charlbury Refugee Action Group men's clothing appeal this month. It's going to Calais in a few days time with a local volunteer. What she can't fit in her car this time will go next month.
Thank you to everyone who made this possible.
We've also just donated £2000 to the charity Help Refugees. That's the proceeds from two events we held in January: our annual Bring and Buy, and our concert with Brian Boothby. They are helping refugees and asylum seekers not only in France but across Europe and especially on the Greek islands and mainland.
Want to know more? You can sign up to join CRAG and receive their newsletters here: eepurl.com/dv8AAj It's free! And follow them on Facebook at www.facebook.com/charlburyrefugee
Jon Carpenter · Sat 26 Jan 2019, 10:12 · Link