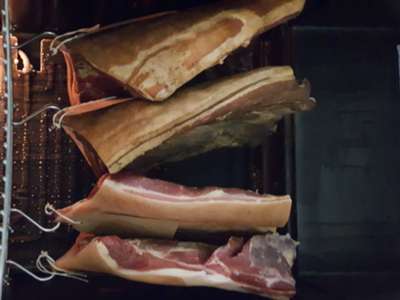 Charlbury produced bacon for sale in the Deli
You can now buy bacon at the Deli that is produced right here in Charlbury by The Curiosities Company on Sheep Street.
This isn't any old bacon but is a high end artisan flavoured bacon produced by hand in small batches. A range of different flavours are available made from high quality and home grown ingredients.
All the packaging is special too. The outer pack being made from FSC 100% certified card and the inner lining from a Biofilm made from trees and plant fibres. This is all home compostable meeting the OK Home standard.
The packs will be the first bacon to get the PLASTIC FREE Trademark in the UK.
From next week the production switches to entirely organic certified ingredients and the Curiosities Company will be seeking organic certification itself.
You can learn how to cure your own too at the Curiosities in our 5* rated kitchen. To learn more please contact simon@thecuriosities.co.uk

Simon Himmens-Warrick · Thu 11 Oct 2018, 08:52 · Link