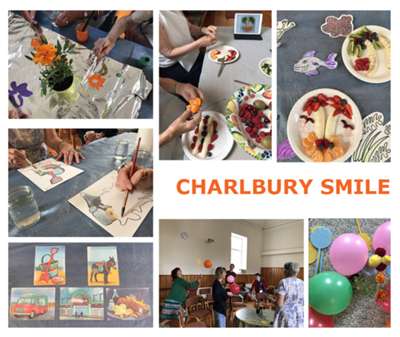 Charlbury SMILE - sharing good memories
Charlbury SMILE, a new care and wellbeing group for people who live with memory loss and their carers, started at The Friends Meeting House in June. Led by arts and dementia specialist Clare Carswell of Blossom Arts and dementia researcher Rhonda Riachi of Autumn Gold Education, it has been funded by Age UK Oxfordshire for four pilot sessions. The two-hour sessions offer fun and stimulating reminiscence and creative activities for people who are living with memory loss, as well as supporting and sharing information with their carers.
Each session starts with refreshments, welcome and seated exercise to music, after which the carers spend some time in another room with Rhonda, and Clare and volunteers lead the activity time. In our first two sessions we made foil paintings inspired by summer flowers, and tropical islands from fresh fruit which we then enjoyed eating. At our last session we looked at archive photos from the seaside as we reminisced about our summer holidays and made aqua painting pictures with a seaside theme, before ending with a game of balloon volley ball. Any session may end with a bop to Elvis or Ol' Blue Eyes! We are pleased to see regulars enjoying the sessions and returning each time.
Rhonda and Clare are grateful to Age UK for their support at this early stage and will be fundraising to continue the SMILE group twice monthly in Charlbury. There are people in the town and surrounding area who are isolated, living with anxiety or memory problems or who have a diagnosis of dementia, and this group can be very enjoyable for them, as well as helpful for their carers. Clare and Rhonda look forward to meeting the growing need for such a group in the town.
The next session will be on Friday 28th September at 10.30 at The Friends House Market Street. We will be joined by Hands on Oxfordshire's Heritage from the Oxfordshire County Council Museum Service, who will bring a carefully chosen selection of interesting objects, photos and documents on the theme of entertainment to share with the group and Rhonda will be discussing how to get help and look after ourselves with carers.
If you know of anyone who might benefit from this group, they or their carer need to ring Rhonda on 07533 248659 or Clare on 07769 723328 to have a chat and to book onto the sessions.
Clare Carswell · Mon 17 Sep 2018, 12:10 · Link