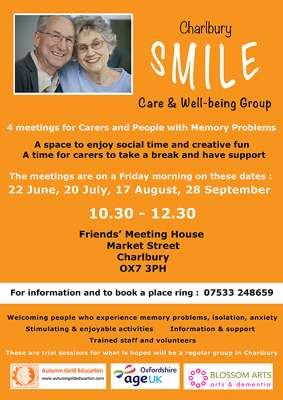 New memory problems group for Charlbury
There is to be a new care & wellbeing group for people living with memory problems, and their carers. Called Charlbury SMILE it is to be run by arts & dementia specialist Clare Carswell with Rhonda Riachi, a researcher from Oxford Brookes. The group is supported by Age UK. There are to be four pilot sessions starting on Friday 22nd June at The Friends House at 10.30.
Each two hour session will include welcome time, seated exercise to music followed by enjoyable activities such as music, poetry, dance, arts & crafts and of course refreshments. There will also be sharing time, support and information to carers.
There may well be people in the town and surrounding area who are isolated, living with anxiety or memory problems or who have a diagnosis of dementia, and this group could be very enjoyable for them, as well as helpful for their carers.
The group will be assisted by volunteers, who will be supported by Age UK. If you might like to volunteer do get in touch with us. You do not need to have art skills but be active and kind and wiling to help with welcome, setting up and clearing away, supporting activities and serving tea and coffee.
If you know of anyone who might benefit from this group, they, or their carer, need to ring Rhonda on 07533 248659 to have a chat and to book onto the sessions.
Clare Carswell · Fri 8 Jun 2018, 07:56 · Link