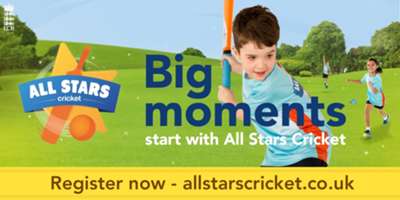 Looking for an outdoor summer activity for your 5-8 year old?
All Stars Cricket is a fantastic initiative from the England and Wales Cricket Board aimed at providing children aged five to eight with a great first experience in cricket. It is a fun and active way to develop your child's skills, and through our eight-week programme they will learn lots, as well as make new friends, in a safe and inclusive environment.
Everyone is welcome, and each registered child will receive a pack of cricket goodies including a cricket bat, ball, backpack, water bottle, personalised shirt and cap to keep so that they can continue their love of cricket when they go home. Returning participants will receive a different pack of goodies including an updated shirt and a set of stumps to add to their equipment.
All Stars cricket is once again running at Charlbury Cricket Club, and registration is NOW OPEN for the programme, which starts in May 2018. We had a great fun last year and would love to continue the success of this programme this year.
If you would like more details please contact us at charlbury.allstars@gmail.com or visit ecb.clubspark.uk/AllStars/BookCourse/d09e2dd0-66ba-4825-880f-c3d6b62e16a8 (where you can register your child)
Don't delay as spaces are filling up fast and numbers are limited!

A Westbury · Mon 16 Apr 2018, 22:27 · Link