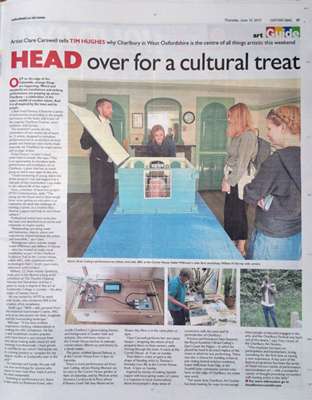 A fantastic HEADline !
We are delighted with the support from Tim Hughes at the Oxford Mail for writing this great article in today's paper on the FESTAL FAVOURS programme and especially pleased to see him focus on the mentoring of young artists which is an important part of what we do at AYYO and which is showcased so well by the fantastic ARC audio visual installation by Neil C Smith and William H Harvey in the Corner House, open every day until Sunday 12 - 6.
Neil and Will are holding two workshops this week-end to talk about how they made the installation and to give people a chance to try their equipment.
It is great to see a trail for the wonderful performance art that is coming to Charlbury this week-end too.
All events are listed on the events page here or on festalfavours.tumblr.com
Clare Carswell
admin@ayyo-art.com
www.ayyo-art.com
01608 811997
07769 723328
Clare Carswell · Thu 15 Jun 2017, 13:33 · Link