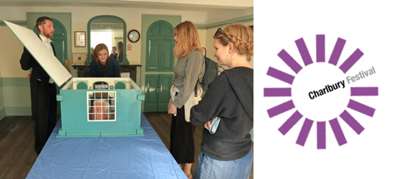 Extraordinary performance in the Corner House
An eager audience queued around the block to get in to see a new perfomance work by artist Brian Catling RA on Sunday 11th June in the Corner House.
Called "Don't Count the Fingers", it was made especially for the Festal Favours programme of installation and performance art, curated by Clare Carswell for the Charlbury Festival.
Catling had made an exact model replica of the Anne Downer room that he was performing in. He had a grim faced suited assistant who ushered in the audience in small groups or on their own and lifted the lid on the model to reveal his head looking back at them for a few moments before shutting the lid. The audience were stunned and amazed by what they experienced and several queued to go in more than once to see it.
Some remarks from viewers were
"That is incredible, I can see why he is an RA ! "
"We have never seen anything like this in Charlbury, thank you so much" "It is fantastic to see something so different happening in Charlbury"
The model that Brian made for his performance is now on display in the Morris Room of the Corner House.
Photo Credit : Stu Allsopp
Brian Catling a Royal Academician, will be the first ever artist to make performance art for the RA Summer Show this year and his appearance in Charlbury is his last before his performances in the Royal Academy.
On Saturday evening a BBC 2 programme on the RA Summer Show included an interview with Brian about performance art. You can still watch that on i Player.
www.bbc.co.uk/iplayer/episode/b08v9xrl/royal-academy-summer-exhibition-3-2017
Brian Catling is one of thirteen artists making up an exciting programme of installation and performance art called Festal Favours, curated for the Charlbury Festival by Clare Carswell.
You can read more about Clare and her curation at www.ayyo-art.com and you can read about all the artists on the Festal Favours programme at festalfavours.tumblr.com
Clare Carswell
www.ayyo-art.com
admin@ayyo-art.com
01608 811997

Clare Carswell · Tue 13 Jun 2017, 19:57 · Link