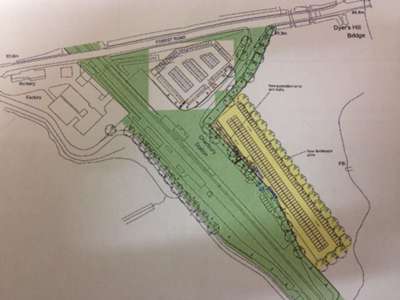 GWR proposes 286 new car parking spaces at station
Charlbury station's car park could increase from around 200 spaces to almost 500 if plans by Great Western Railway go ahead.
The train operator is proposing two expansions to the car park:
An additional deck over the lower-level car park, adding 112 new spaces
A ground-level extension at the edge of the water meadow, below the existing car park, adding 174 new spaces
The ground-level extension would be constructed first so that parking spaces would remain available while construction work took place on the new deck.
GWR say that passenger numbers at Charlbury have been increasing year-on-year, from 231,582 in 2009/10 to 327,518 in 2015/16. The current car park was 64% occupied when it was first opened in 2012, but has now reached 88%.
The outline plans were presented at the planning meeting of Charlbury Town Council on 20th February. Questions from councillors included the need for landscaping; the possibility of an alternative location on the Forest Works side of the station (GWR said that this was their original intention but the landowner had not been willing); and the need for the town, district and county councils to be consulted and engaged so that a solution could be found to related traffic and parking issues in the town.

Richard Fairhurst · Mon 20 Feb 2017, 22:28 · Link