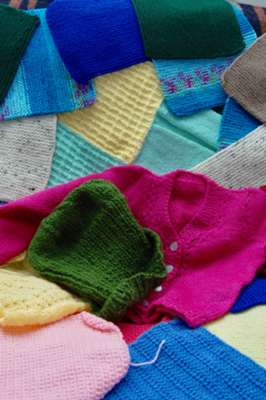 Big fundraising success for CRAG
Charlbury has a double whammy of good news for refugees today.
Charlbury Refugee Action Group's Bring and Buy in the Friends Meeting House this morning raised a record-breaking £1007. That's a record in the sense that it raised more money than any other single fundraising event we have put on.
Thanks go to Gene and Fran for organising it, and all the people who donated their unwanted gifts and other things too numerous to count, plus an envious array of cakes. We also thank the Quakers for letting us use their premises for free, and a bevy of willing helpers on the day.
Secondly, our appeal for knitted squares to make up blankets for refugees in Syria got off to a good start, when Meraud collected 25 squares, three knitted hats and a lovely little child's cardigan from the collection box in the Corner House bookshop. The photo is of part of the donations. There is more information about this collection at www.charlbury.info/news/1998
Thank you everyone so much.
Jon Carpenter · Sat 7 Jan 2017, 18:20 · Link