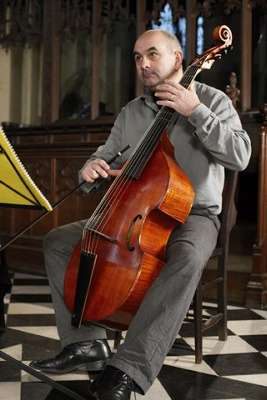 A unique opportunity to hear a solo viola da gamba in Charlbury!
This coming Sunday afternoon (December 4), the viola da gamba player Richard Boothby will be coming to launch a series of one-hour Sunday afternoon teatime concerts to be performed by different artists. The series is promoted by Charlbury Refugee Action Group.
Founder and Director of the Fretwork Viol Consort and professor of viola da gamba at the Royal College of Music, Richard Boothby is a distinguished player who has recorded over 80 CDs.
This concert will be a rare opportunity to hear some gems of the solo viola da gamba repertoire in a medley of 17th and 18th century German and English music. The hour-long recital is in the Memorial Hall at 3pm ands will be followed by homemade cakes and tea, when there will be an opportunity to meet the artist and buy copies of his CDs.
The works played will include:
Tobias Hume: A Soldier's Resolution; Harke, harke
Georg Philipp Telemann: Fantasia No. 2 in D major
William Lawes: Alamain; Coranto; Saraband
Charles Frederick Abel: Prelude, [Allegro], Adagio, Allegro
Telemann: Fantasia No. 3 in E minor
Lawes: Prelude; Country Coll; A Jigge; Coranto
Abel: Prelude, Allegro, Adagio, Allegro
All proceeds will go to work supporting refugees, mainly in northern Greece
Jon Carpenter · Tue 29 Nov 2016, 13:26 · Link