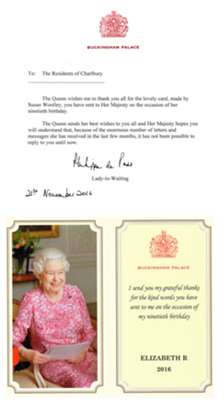 Letter from The Queen
To celebrate Her Majesty The Queen's 90th birthday in June, a party was held at the Font Cafe in St Marys church for all Charlbury residents born in the same year.
A card with a watercolour painting by Susan Woolley of a Queen Elizabeth rose was signed by all the 90 year olds and sent to Her Majesty.
This reply has now been received: .......
Maureen Sparling · Sat 26 Nov 2016, 14:32 · Link