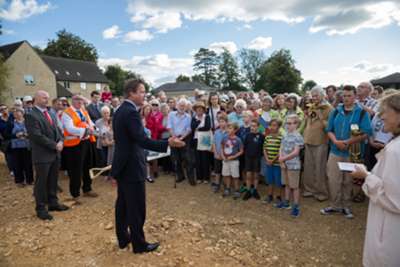 Charlbury Community Centre Update
Last Friday saw the official launch of construction work at the Community Centre site by former Prime Minister and Witney MP, David Cameron. Over 200 people attended the event plus children from Charlbury Primary School after completing the Charlbury Challenge!
This week is being used by the contractors to set up the site ready for major construction works. The major works up to Christmas will involve digging the foundations, laying the concrete pad and erecting the steel frame. This will give all Charlbury residents a real view of the scale of the project.
As you may be aware, we have had to divert some footpaths around the construction site. We tried very hard to maintain some access across the site (however small) but due to the heavy plant and deliveries that are required on an already tight construction site this has not been possible. However the good news is that new lit pathways, cycle stores and buggy shelters will be built and completely enhance the accessways on completion of the project. Start ticking off the calendar...
We remain very thankful for the continued support of the community and trust you will bear with us through this now intense construction period.
The centre is still targeted to open in Autumn 2017!
Paul D Jenkins · Wed 21 Sep 2016, 13:09 · Link