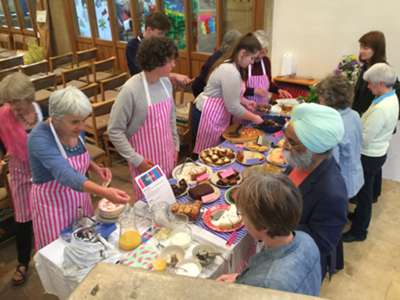 The Art Café raised £1000 !
.
Or more precisely, £976.90, all going to fund refugee aid. Coffees, lunches and teas were served on Monday in St Mary's by a dedicated team of helpers in the latest fundraising initiative by Charlbury Refugee Action Group.
Including the wonderful people who baked cakes and made salads, quiches, stuffed bagels and much, much more, over 40 people were involved. Their efforts will be really appreciated by the people we are now able to help.
We won't name names, but there were several people who went far beyond the call of duty. Thank you so much to all of you.
And Charlbury Refugee Action Group is grateful to the many Artweeks artists who contributed cakes, to St Mary's for the use of the church, and to the St Mary's Fairtrade group for donating Fairtrade tea, coffee and sugar.
If you would like to join the mailing list for Charlbury Refugee Action Group, please sign up at eepurl.com/bCX1bz
.
Jon Carpenter · Tue 31 May 2016, 11:59 · Link