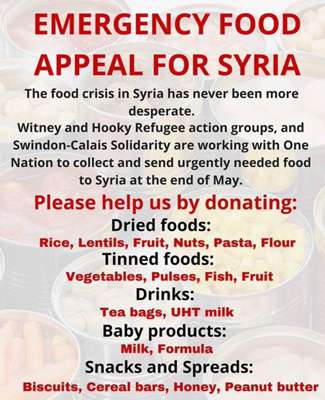 Emergency food appeal for Syria
.
We have a week to respond to this
People in Witney, Hook Norton, Oxford, Swindon and Wycombe are working together to fill a container which will take food to people in desperate need
Charlbury Refugee Action Group is contributing too.
Aid workers in Syria risk their lives every day to provide vital and life saving aid to the victims of war. The aim here is to fill a container with provisions which will be sent directly to Syria within the next couple of weeks, reaching people who are being bombed and slaughtered on a daily basis, and are prevented from fleeing for refuge abroad.
If you can take part, our closing date is THURSDAY MAY 27 at 5 pm.
Please...
• do not bring anything that is not on the list.
• please phone 01608 811378 or email charlburyrefugee@gmail.com to find your nearest drop-off point in or near Charlbury.
• rather than an assortment of items, please donate multiples or trays/cases of just one (or at most two) items. They are much easier to package.
How to contribute in cash
If you would like to contribute money to the Witney collection rather than buying things yourself, you can do so at https://www.gofundme.com/24jnsyus However, you are not able to add Gift Aid.
If you wish to donate direct to One Nation, who are the charity organising the filling of dozens of containers across the country, your money will go further if you pay income tax and apply Gift Aid (which increases the value of your donation by 25%). The link for making a donation is mydonate.bt.com/fundraisers/onenationinsyria
Thank you for helping in any way you can.

Jon Carpenter · Wed 18 May 2016, 15:55 · Link