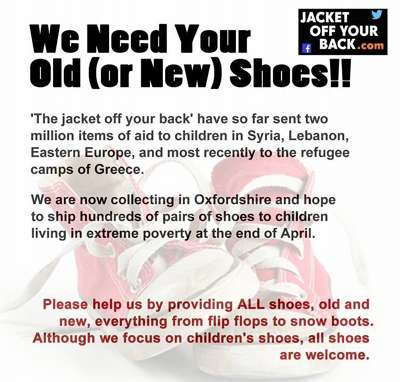 Shoes and other footwear for refugees
'The Jacket Off Your Back' has so far sent over 2 million items of aid to children in Syria, Lebanon, Eastern Europe and Greece. Charlbury Refugee Action Group is helping with a collection of shoes and other footwear locally, to be shipped to children living in extreme poverty at the end of April.
Children's shoes are needed above all, but adult footwear is welcome too.
Because of the variety of places the shoes are going to, all kinds of footwear are appropriate. Everything from flip flops to snow shoes, such is the variety of terrain and climate involved.
We have the usual collection point on The Green in Charlbury. Email charlburyrefugee@gmail.com for details if you don't know them.
Deadline is April 30.
Just one final point: please tie or tape pairs of shoes together!
Secretary, Charlbury Refugee Action Group
www.facebook.com/charlburyrefugee
(Since we first set up six months ago, CRAG has sent lots of food and clothing to refugees in Greece and France, as well as raising nearly £5000 in cash donations.)

Jon Carpenter · Thu 14 Apr 2016, 11:45 · Link