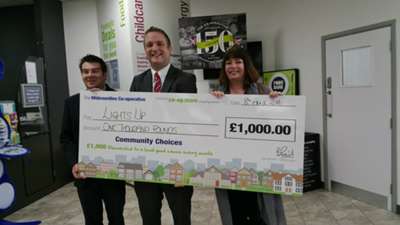 Thank you Charlbury !
Today I had the pleasure of collecting the cheque for £1000 from the Co-op in Chipping Norton which Lights Up has been rewarded with as a local good cause in their Community Choices scheme. I know that a lot of people in Charlbury registered and voted for us to win this money so huge thanks from me to all of you for your support.
We have two new members about to join us from Charlbury and that number will grow month on month. We will be delighted to help all of them to live well with their dementia and to support their families as we do but we need to exist to do so.
The money we have been given by the Co-op is a big help to us as at the end of the financial year Lights Up funding reduced by 50%. We are grateful to WODC who continue to part fund us, but they have lost the funds from external sources that they were able to pass onto us previously.
It costs £6k a year to run the free drop in Lights Up arts memory clubs twice a month in Chipping Norton. As of last week we only have £3k.
Of course I am willing to put in the effort to win money from supermarkets or to bake cakes to sell or to run 5k to raise money for our work. But it doesn't feel right to me that the specialized work that we do, supporting people who have lived full lives and are now struggling with dementia, should be depending for existence on such money. We face huge challenges now to be able to continue our work at all never mind to grow it and that is what we want to do as there is a growing need for it. More and more of us are affected by dementia, one in 14 people over 65 now has the condition and this is expected to increase in the next decades.
If you would like to support Lights Up by making a donation to help us to continue and to grow our work then please make out a cheque to Guideposts Trust. You can give it to me when you see me or drop me an email and I will give you my home address to send it to me. I have a guarantee that any donations made will be used just for Lights Up work.
We are now being managed by the national charity Guideposts Trust who are based in Witney and believes that everyone in society, regardless of condition, has a right to well being, opportunity and support within their communities. I do not know quite what this will mean for Lights Up, I hope it will be positive and that we will be well supported by them but I do know that funding will remain a major challenge for us.
If you know anyone locally whose life is affected by dementia and who would enjoy our friendly and supported sessions please do refer them to me. I can if needs be try to arrange volunteer help with transport from Charlbury. We have a session next Tuesday, further info below. If you would like to come and join a session to see what we do please contact me, you will be very welcome. We always need volunteers too !
Thank you very much for your support for Lights Up, it feels brilliant to know that there is so much goodwill in Charlbury for us.
Clare Carswell
Lights Up Co-ordinator
Lights Up is open to people living with dementia, their friends, family and carers as well as those with memory concerns. This positive name is an explicit attempt to address stigma; Lights Up is about lighting the time to come, lighting up the brain, living well and for the moment.
Lights Up is a free drop in session that offers a meeting place to relax and socialize and successfully facilitates participation in the arts, social engagement and learning new skills. The artist led sessions offer activities that engage and stimulate participants and provide creative opportunities. Lights Up also offers respite, support and information to carers as well as opportunities for community and peer support through volunteering. Lights Up is about supporting and promoting mental health and wellbeing, and supporting people to live well with dementia through the arts.
The club takes place on the second and fourth Tuesday of each month at Highlands, 73 Burford Road OX7 5EE.
Sessions are between 10.30 ?" 12.30.

Clare Carswell · Fri 8 Apr 2016, 17:46 · Link