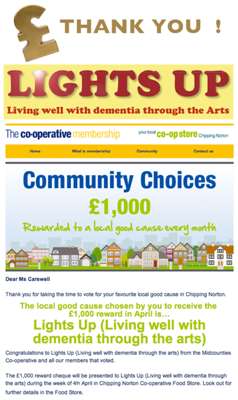 Lights Up Won £1000 !
Thank you to the many of you in Charlbury who voted for Lights Up in the Co-op Community Choices Poll. I am delighted that we have been rewarded with the £1000 this month. The money will help Lights Up to continue our work supporting people to live well with dementia through the arts.
We have several members who come over from Charlbury and so it is lovely to feel such support for our work from the town.
Many thanks to all of you.
Clare Carswell
Clare Carswell · Fri 1 Apr 2016, 15:35 · Link