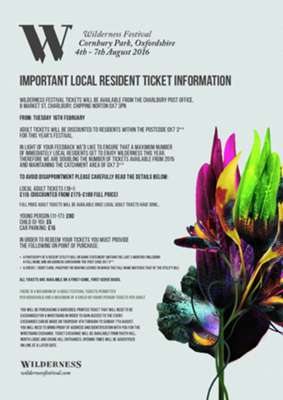 Wilderness 2016 Local Tickets News - now available from 16th Feb
Discounted Wilderness tickets for locals for 2016 will now be available from 16th February, exclusively from Charlbury Post Office.
Wilderness have doubled the number of Local Tickets available this year for those who live within the OX7 3** postcode, so please remember to bring proof of address (utility bill or similar).
Prices have risen a little to £115 in order to increase the number available, and to allow more people access to the £70 discount on full price adult tickets.
Wilderness aims to make sure as many of those as possible who live in the area have access to the discounted tickets, so those who book Local Tickets will also be asked to bring proof of address to the festival when they pick up wristbands.
Local Tickets are limited to four per household.
Child Tickets (10 and under) cost £5 and Young Person Tickets (11-17) are £80.
Please remember that although the allocation has increased, Local Tickets are very popular and they will sell out, so do book early to avoid disappointment.
Full details will be available at the Post Office.

Alison Wright · Fri 5 Feb 2016, 16:15 · Link