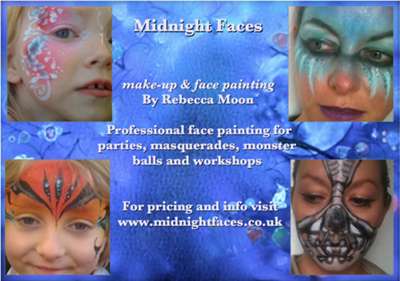 Face Paint or Face Bling?
With Halloween past and bonfire night too, the winter nights are drawing in with the comforting crackle of the fire and the berries on the holly tree reminding us of pomegranates, mulled wine and that party season is just around the corner with all its sparkling and magic.
Midnight Faces, a new Charlbury make-up and face painting service, promises to bring some theatrical elegance to that masquerade ball, a night out at the theatre or themed dinner with friends; with beautifully iridescent siren masks, holograph eye details or expertly blended eye make-up designs. So, why not treat yourself to a beautiful eye design, an enhanced geisha make-up or wear a subtle adornment like a painted veil?
Face painting has grown up and while the kids still enjoy their tiger faces, butterflies, rose princess designs and monstrous Machiavellian masks, Midnight Faces offers more subtle, beautiful designs for adult parties and special occasions.
A fancy dress should be more than the clothes you wear, to really become the character, monster or hero of your dreams, you must show it in your face. We can create themed designs for book launches and festivals, fundraisers, fashion and hair shows, or just a little face-bling to stand out from the crowd.
To find out more please do visit the Midnight Faces website at midnightfaces.co.uk

rebecca valentine · Wed 12 Nov 2014, 13:39 · Link