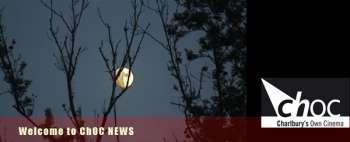 The future of ChOC
ChOC is looking for film enthusiasts who want to get involved with the fun of choosing and showing films.
We sometimes get together between screenings to view and discuss films. Committee members have also attended national film events, as well as visiting other local community cinemas to learn from what they do.
As we approach this AGM we lose several key players, all of whom have done valiant work over the last year or more. It is an exciting time and gives us the chance to refresh the committee and offer new enthusiasts the opportunity to get involved.
But as things now stand, there is too much work for a small group of people to do.
So we need at the very least two or three new working and active committee members, together with new volunteers who can be asked to help out in different ways and on particular occasions. We certainly need someone to take on a lot of the secretarial/admin work, and a person or persons to manage front of house on film nights.
We would also welcome one or two more people interested in learning the skills of the projectionist: no projectionist, no film!
ChOC is sociable, fun and rewarding!
Hundreds of people will read this announcement. You are among them: thank you! How you respond is your individual decision, and your collective choices will help decide where ChOC goes from here.
The ChOC AGM is on Monday June 30 at 8pm in the Larcum Kendal room in the Corner House. If you believe ChOC can continue to provide a useful and relevant service to the Charlbury community; have ideas for improving what we do; and want to help choose films for our future programmes, please come along and offer to help, and (for members) elect the new committee. And discuss ChOC's future over a complementary glass of wine.
ChOC's future is far from certain at present, but you can change that.
Please email secretary@chocfilms.info with any questions.

Jon Carpenter · Sat 14 Jun 2014, 10:08 · Link