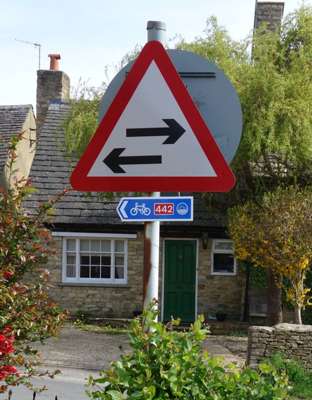 Cycle route comes to Charlbury
A small number of cycle route signs are appearing around Charlbury as part of an initiative to encourage people to visit the town - and spend money in the shops and cafes.
The blue signs mark out a route on quiet lanes and byways broadly following the route of the Cotswold Line railway. In Charlbury, the route (travelling east-to-west) follows the one-way system around Sheep Street and Fishers Lane, taking it past News & Things, the Charlbury Deli and other shops, as well as all four pubs.
It builds on the generous permission by Lord & Lady Rotherwick for cyclists to share the footpath past the Cornbury Estate, avoiding the busy and bendy Witney road.
All the signs are fixed to existing posts to reduce clutter. Because cyclists travel more slowly than cars, the signs are a fraction of the size of standard traffic signs - as the picture shows. They carry the Cotswold Line logo and the cycle route number, 442. They will be installed along the full route in the next week.
The project has been funded by the Cotswolds Conservation Board (the body behind the Cotswold AONB), First Great Western, and Charlbury & Overseas Community Projects (the fundraising arm of the Charlbury Beer Festival). It has been co-ordinated by Sustrans, the sustainable transport charity, and largely carried out by volunteers.

Richard Fairhurst · Thu 17 Apr 2014, 21:20 · Link