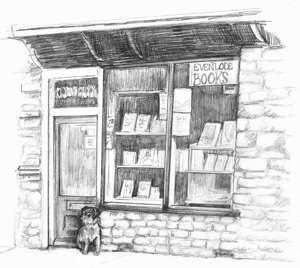 Latest bookshop news
Here's more news on the future of the bookshop...
(1) Of course, anyone who so wishes is completely free to come up with their own ideas for the premises in Market Street and approach the landlord.
(2) My experience suggests that a bookshop as a business is viable only if run in conjunction with a second desk/computer/internet-based business run from these premises. It is almost certainly not possible to earn a living from a bookshop if it is the only business based here, though I could be proved wrong.
(3) No one so far has told me that they wish to continue running a bookshop more or less in its present form. Anyone who so wishes will have my full cooperation if they need it. But they do not need my permission!
(4) I do not think there is any useful purpose at this stage in having a public meeting to discuss something as vague as 'the future of the bookshop'.
(5) But I do think it would be useful to enable those people, probably relatively few in number (if indeed any at all!), who are interested in developing a voluntary or co-operative bookshop or similar, possibly though not necessarily at these premises, to discuss how they might take such an initiative forward. My involvement would be primarily in enabling the meeting of such people to take place, and to offer any useful practical advice on the running of a bookshop.
So to facilitate (5), I have booked the Morris Room at the Corner House for 8pm on Friday September 27. I look forward to meeting any interested people there.
To clarify once more: this is a *practical* meeting for anyone who wants to meet other people with a view to discussing and planning practical ways of keeping a bookshop open in the town. If the outcome is positive, a working group (or an individual) will develop a business plan or similar proposal and seek wider community support in the future.
And also to reiterate: this does not have to be a co-operative or voluntary venture. It may be appropriate for an individual to run a private business or businesses here, just as I have done for the last 13 years and more.
Jon 819117

Jon Carpenter · Tue 10 Sep 2013, 11:52 · Link