Charlbury Refugee Action Group (CRAG)
For Ukraine information please visit the 🇺🇦💙💛 CRAG Ukraine Welcome Hub  🇺🇦💙💛
CRAG HAS NOW RAISED OVER £100,000!!
We're delighted to announce that since its foundation in 2015, CRAG's income has risen from £6,000 in the first year to over £21,000 so far in the current year - and has now reached a cumulative total of over £100,000.
With this money CRAG has been able to help refugees facing appalling conditions in France, Greece, Afghanistan and Lebanon as well as supporting Asylum Welcome in Oxford, and those fleeing from wars in Syria and Ukraine. THANK YOU SO MUCH TO EVERYONE WHO'S SUPPORTING US...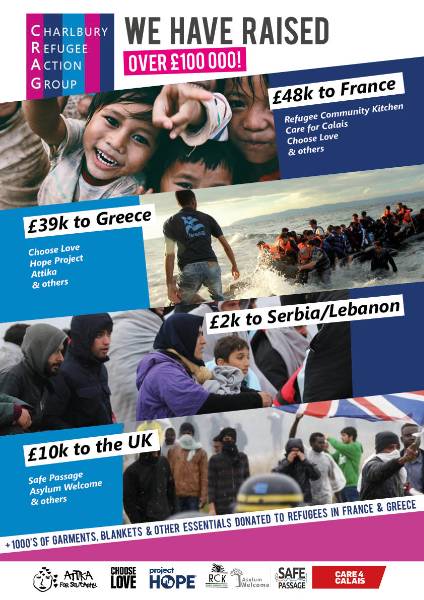 Charlbury Refugee Action Group (CRAG):
Raises funds to assist in the alleviation of poverty, distress, ill health and homelessness among refugees
Aims to promote and raise awareness in the local community of the human rights of refugees
Campaigns for the humane and sensitive treatment of refugees
Provides support to everyone welcoming Ukrainian guests to Charlbury and the surrounding area.
To make a donation please visit our JustGiving page
To make a donation by bank transfer to CRAG Coop Bank use account 65789036 sort code 089299. Email treasurer@charlburyrefugee.org.uk for Gift Aid form to benefit CRAG a further 25% on your donation.
Please check the CRAG Facebook page
Become a CRAG member and keep up to date with what we are doing by signing up to join CRAG. It's free and you receive our newsletters. SIGN UP NOW.
-------------------------------------------------------------------------------------------------
Latest CRAG Sunday Sunday Tea Concerts - 22/23 Season announced!
For more information about this exciting programme of five classical concerts performed by world class musicians and how to buy tickets please see our concerts page.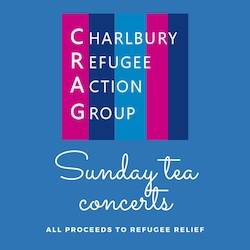 -------------------------------------------------------------------------------------------------
CRAG recipe booklets
Cracking Cakes and Brilliant Bakes features 23 recipes for the mouth-watering teatime treats enjoyed by so many at our concerts, cafés, and tea parties. The recipes include maple nut cake, toll house cookies, Earl Grey & raspberry cake and orange & almond cake.
The Full Mezze contains12 delicious vegetarian recipes with a Middle-Eastern twist
The Fantastic 5 includes five one-pot, plant-based recipes from around the world
Please email recipes@charlburyrefugee.org.uk and we'll send you details about how to get copies.
--------------------------------------------------------------------------------------------------------------
Contacting CRAG
-----------------------------------------------------------------------------------------------------------------
Other links
Read our privacy policy and privacy statement. There is additional information on the sign-up form.
THANKS FOR YOUR INTEREST AND SUPPORT