Charlbury Refugee Action Group (CRAG)
Ukraine
🇺🇦💙💛 CRAG UKRAINE WELCOME HUB 🇺🇦💙💛
We're providing information, links and support to everyone who is welcoming Ukrainian guests to Charlbury and the surrounding area. We update this page regularly so please do keep visiting this page for the latest information. 
If you have a query, or if you'd like us to add any information to this page, please email ukraine@charlburyrefugee.org.uk and we'll do our best to help.
We have a WhatsApp group for hosts and potential hosts to share information and support. Please email ukraine@charlburyrefugee.org.uk with your phone number if you'd like to join this group.
🇺🇦💙💛
WELCOME HUBS FOR HOSTS AND GUESTS
Our Welcome Hubs are taking place on
Thursdays in St Mary's Church, 10-12 where an established weekly cafe with crèche already takes place.
Friday mornings in Charlbury Community Centre, 10-12, in the cafe area, where there are box games and a regular scrabble session.
🇺🇦💙💛
RECOMMENDED RESOURCES FOR POTENTIAL HOSTS AND HOSTS
Oxfordshire County Council support pages: https://www.oxfordshire.gov.uk/council/ukraine
West Oxfordshire District Council Ukraine support: https://www.westoxon.gov.uk/communities-and-leisure/ukraine-support/
Asylum Welcome Ukraine support: https://www.asylum-welcome.org/ukraine-support/
Marlowe Ukraine Collective: https://ukrainecollective.co.uk/hosts-families/
🇺🇦💙💛
POTENTIAL HOSTS: HOW TO FIND A UKRAINIAN TO SPONSOR
The following platforms should be safe to use:
🇺🇦💙💛
VOLUNTEERS AND OFFERS OF HELP 
If you can help in any way, please fill in our offers of help form and we'll add you to our list. We'll put hosts and/or guests in touch with you when they make requests for help. Thank you!
🇺🇦💙💛
LEARNING ENGLISH (ESOL)
Please email james.styring@charlbury-tc.gov.uk for information about English language lessons running in Charlbury. 
🇺🇦💙💛
HOSTS AND GUESTS: Do you need help or support?
This is a list of the type of help people have offered so far:
Admin (e.g. applying for Universal Credit)

Bedding

Creative activities

Education

Free hair cuts

Interpreting (i.e. people who speak some Russian or Ukrainian)

Piano teaching (up to Grade 1)

Outdoor activities (e.g. dog walks and horse riding)

Social activities (e.g. group meals)

Transport (i.e. giving lifts)
We've had various general offers of help too. 
Please send an email to offers@charlburyrefugee.org.uk with details of the type of help you need and we'll try and match you with a volunteer and put you in touch with them by email.  
🇺🇦💙💛--🇺🇦💙💛--🇺🇦💙💛--🇺🇦💙💛--🇺🇦💙💛
FUNDRAISING EVENTS AND INITIATIVES WE'VE HEARD ABOUT 
Greeting cards for sale
Charlbury artist, Maureen Sparling is selling all her greeting cards in aid of Ukraine during this desperate situation. The selection of cards will change throughout the summer as she paints new images. You can see the complete range on her website and a small selection will also be outside her door in Church Lane during fine weather.
https://maureensparling.co.uk/product-category/cards/
UK to Ukraine project
Uk to Ukraine's new project is to collect garden tools and to raise funds to grow vegetables in Ukraine. Project "VICTORY GARDENS"is a fantastic initiative to help this proud nation feed itself. There are 7 million refugees residing in the west of Ukraine, which has created a massive pressure on food supply. Project "VICTORY GARDENS" have designated large areas to grow veg to ease the food pressure, This project draws its inspiration from Herbert Hoover who recruited thousands of volunteers to plant crops to stave off starvation in WW1.
So far www.uktoukraine.com has raised £120k, delivered 45 generators, 1600 power banks, 1000 thermoses, 12 tons of food and 4 tons of essential women and children daily needs and bought a medical first aid trailer with all equipment.
Please contact Maeve on 07426114457 or maevebradbury@gmail.com
Donate books to Ukrainian children
Millions of refugees and, among them, many, many children left their homes only with the minimum essentials. This campaign, supported by the Federation of European Publishers, aims to print hundreds of thousands of children's books in Ukrainian to enable refugee children to keep the link with their homeland. The first 6,000 books will soon be printed and distributed. 
To support this campaign please go to the donation page.
'Sunflowers for Ukraine'
Artist, Charlbury resident and CRAG member Elaine Kazimierczuk has been painting 'Sunflowers for Ukraine' to raise funds. Her original oil painting are available as digital prints for £20 each (add £5 p&p if not collecting from her studio in Charlbury).
Please email e.kazimierczuk@btinternet.com. All proceeds to refugee relief.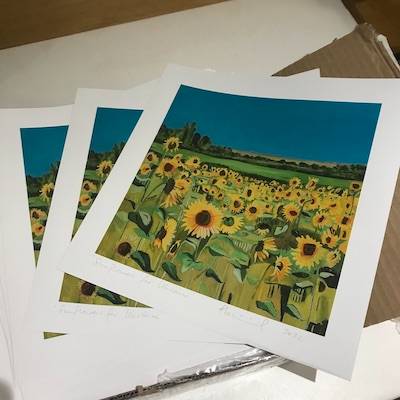 Hands On Help Ukraine appeal
We've heard about a wonderful couple in Krakow. Graeme (who's English) and his Polish wife Aga are providing short term care for Ukrainian people who are transiting through Poland and need somewhere to wash, rest, eat and sleep. They also help them get any essential items they could not pack, provide them with bigger cases, and give them money to get to their final destination.
Through their donations page, they're able to:
help people transiting with food and shelter
provide essential personal hygiene items, toys, better bags for travelling etc...
give money to ensure people can buy food and essentials on the second leg of their journey
take food each week to 40 families staying in the local football stadium
provide food and a resting place for any amazing UK van drivers bringing aid to Poland
If you'd like to donate to the incredible work they're doing please go to https://gogetfunding.com/hands-on-help-ukraine/
🇺🇦💙💛
APPEALS WE SUGGEST FOR CASH DONATIONS
If you are in a position to help with cash donations, we suggest giving money to any of these appeals:
The Disasters Emergency Committee, an umbrella group for 15 of the UK's leading aid charities, donations to which will be doubled by the government up to a total of £20m.
https://www.dec.org.uk/appeal/ukraine-humanitarian-appeal
Choose Love has an appeal to support projects in Ukraine who are providing vital aid and services to those still in and fleeing the country, including emergency medical care, food, shelter, clothes, legal support, support for the LGBTQIA+ community and mental health support. https://donate.chooselove.org/campaigns/ukraine-appeal/
The British-Ukrainian Aid fundraising campaign which is aiming to raise 500k immediately for medical supplies, first aid kits, transport and critical services. UKRAINE AID - HELP NOW! - JustGiving. Note: The JustGiving page also gives the bank details of the BUA so it's possible to make direct donations via bank transfer.
The British Red Cross (also part of the DEC) has launched an appeal to help the Ukrainian Red Cross to provide food, medicine, clothing and shelter, as well as first aid training and, in the last few days, 15,000 litres of drinking water to villages in eastern Ukraine https://donate.redcross.org.uk/appeal/ukraine-crisis-appeal
🇺🇦💙💛
CRAG Mailing list
Please sign-up if you'd like to receive newsletters from CRAG (Charlbury Refugee Action Group).