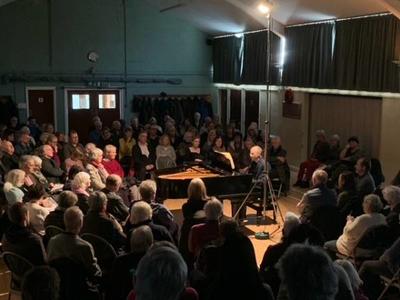 DORIAN FORD Jazz Piano
Charlbury Memorial Hall Sunday 13 February 3 pm (doors open 2.30).
Internationally acclaimed jazz pianist, Dorian Ford, enraptured us two years ago with his rendition of Keith Jarret's famous Koln Concert. Now he returns to bring his unique and fearlessly eclectic sound to the extended improvised solo piano format. From Wolfgang Dauner to Steely Dan via Steve Swallow, Keith Jarrett and Ian Carr; the ultimate prize being the magic of the moment. 
His last concert was a sellout so book early as places may be limited depending on Covid safety requirements.
Tickets £12 (£6 under 16s) will be available at Cotswold Frames from mid January. Bookable now by phoning 01608 811558 or email nick.parker@cooptel.net
There will be complimentary take-away cake. We hope to resume refreshments soon. The hall will be well ventilated and the audience will be in socially distanced bubbles. Please bring a mask and wrap warmly. Numbers will be limited so purchase or book your tickets soon to avoid disappointment.
Visit our webpage here to read our Covid Safety precautions. To join our mailing list or to donate to CRAG please click here.