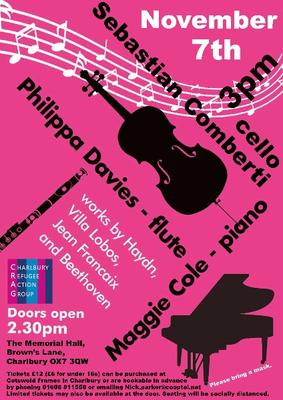 In the second CRAG concert of our winter season Philippa Davis (flute) and Maggie Cole (piano) return to the Memorial Hall with Sebastian Comberti (cello).
They will perform a recital of works by Haydn, Villa Lobos, Beethoven and Francaix.
Memorial Hall Charlbury Sunday 7 November at 3 pm (doors open 2.30)
Tickets £12 (£6 under 16s) can be purchased at Cotswold Frames or are bookable in advance by phoning 01608 811558 or email nick.parker@cooptel.net
Limited tickets will also be available on the door.
We hope to resume complimentary tea and cake as soon as possible. We will make a decision nearer the date so revisit this entry for an update.
Seating will be socially distanced and the hall well ventilated. Please bring a mask and wrap warmly.
Visit our webpage here to read our Covid safety precautions.
All proceeds go to refugee relief.