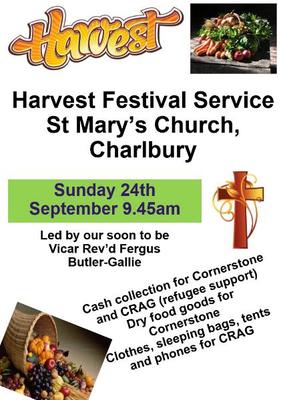 This event is in the past.
Join us for our Harvest service at St Marys. Donations to Cornerstone and CRAG. 
Cornerstone would be grateful to receive any store cupboard foods, toiletries and cleaning products for use with households in need, as well as financial donations. Please bring these items to the church service or leave in the box for Cornerstone in St Mary's church to the left of the front door.
CRAG is working to meet the needs of refugees over the coming winter months. Items that are required are shown below:
Men's and boy's coats (especially small and medium sizes)
Sleeping bags and blankets
Men's jogging bottoms or jeans, size 26-34
Men's t-shirts, men's hoodies
Trainers, socks, hats and gloves
New boxer shorts, hoodies and jumpers
Mobile phones (unlocked and with a working battery) 
Please bring to St Mary's Church. Many thanks for your help.