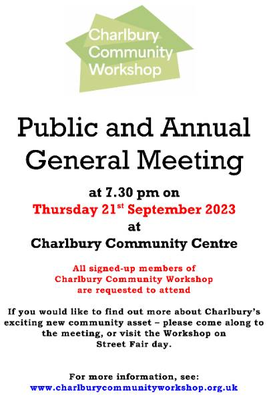 This event is in the past.
CCW Public and Annual General Meeting
at 7.30 pm on Thursday 21st September 2023
Charlbury Community Centre
All signed-up members of Charlbury Community Workshop are requested to attend.
If you would like to find out more about Charlbury's exciting new community asset, please come along to the meeting, or visit the Workshop on Street Fair day.
For more information, see: www.charlburycommunityworkshop.org.uk/events
For AGM Documents https://charlburycommunityworkshop.org.uk/documents