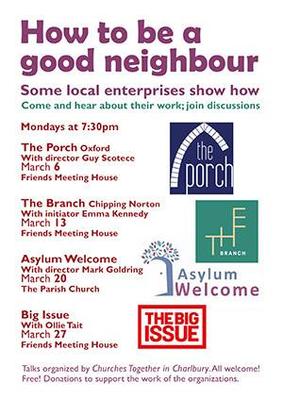 This event is in the past.
Monday 20 March at 7.30pm in St Mary's Parish Church.
Mark Goldring, Director of Asylum Welcome, will talk about work with refugees and asylum seekers living in Oxfordshire. Asylum Welcome offers information, advice and practical support to vulnerable migrants, helping adults, young people and families to feel safe, respected and understood as members of our diverse community.
Charlbury Refugee Action Group has been helping to fund Asylum Welcome's services.
Everyone is welcome. There is no charge. Donations will be given to Asylum Welcome and other organisations contributing to this series of Lent talks.
Talks arranged by Churches Together in Charlbury.