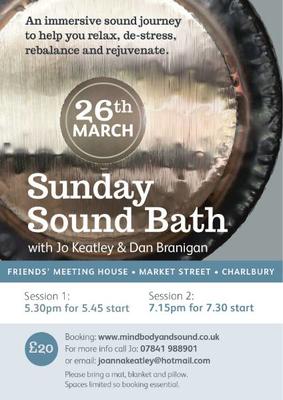 Session 1: 5.30pm for a 5.45 start
Session 2: 7.15pm for a 7.30 start
Jo Keatley and Dan Branigan will take you on an immersive sound journey with gongs and a variety of instruments to help you relax, rebalance and rejuvenate in the tranquil setting of The Charlbury Quaker Meeting House on Market Street.
Please bring a mat, blanket and pillow. 
Spaces are limited so booking is essential. £20 plus £1 booking fee per person. Tickets available here.
For more info visit mindbodyandsound.co.uk or call Jo on 07841 988901