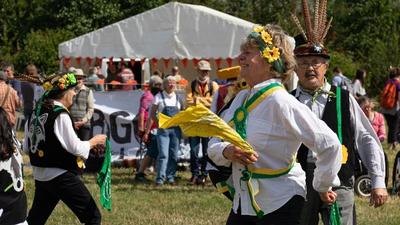 The Wychwood Forest Fair is a family-friendly country fair celebrating rural crafts, community and conservation in the historic Wychwood area.
Founded in 1796 as a peaceful counterpart to the Witney Feast, the historic fair became increasingly raucous and in 1853 was shut down for good. In 2000 the Wychwood Forest Trust revived the fair to highlight conservation work, crafts and community in the historic Wychwood area, and its relaxed and fun ambience is much closer to the original intentions of its founders.
From wood carving, axe throwing, and traditional archery, to pony rides, storytelling and falconry - there's something for everyone! There will also be the usual offering of great food, local beer, live music, and a wide variety of rural craft displays.
​The fair celebrates and supports the conservation work of the Wychwood Forest Trust in creating spaces for nature and preserving the unique cultural heritage of the Wychwood.
The fair will once again take place at Foxburrow Wood, Hailey, OX29 9XL
https://www.wychwoodforesttrust.co.uk/forest-fair