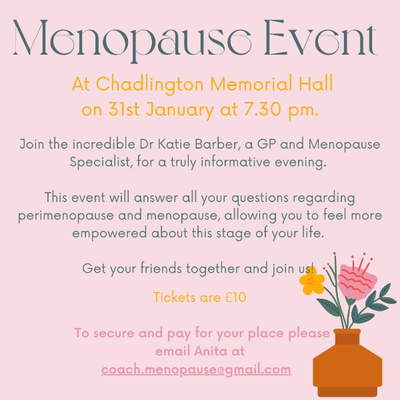 This event is in the past.
MENOPAUSE EVENT on the 31st of January at the Chadlington Memorial Hall at 7.30pm.
Dr Katie Barber has many years of experience as a Menopause Specialist and I am thrilled that she will be coming to present in our local community. She aims for you to leave the event feeling empowered with improved knowledge and understanding and where to find help/support as you move into this stage of your life.
She will be presenting on the following topics:
What is menopause/perimenopause/postmenopause?
What about early menopause? Why is that different?
How is menopause diagnosed?
Menopause symptoms and how they impact women differently
Myth busting
Lifestyle changes
Risks and benefits of HRT
Non-hormonal treatment options
Vaginal symptoms and treatments
Testosterone
There will be plenty of time for questions afterwards.
Get your girlfriends together and have a night out learning all about menopause!
Please DM or email me at coach.menopause@gmail.com
Thanks, Anita