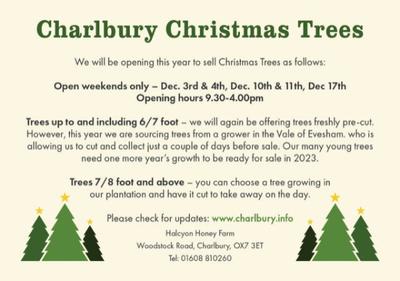 This event is in the past.
We will be open to sell Christmas trees this weekend, so do come and have a wander and choose a tree to take home, decorate and enjoy.
Our opening times will be 9.30 - 4pm.
We are again having to buy in trees in order to satisfy demand for trees up to around 7foot in height. There are plenty of young trees growing but they have not yet made quite enough growth to be offered for sale.
However, this year we have been able to source trees from a grower in the Vale of Evesham. the trees have been chosen and tagged, and we will be going to cut, load and bring back a couple of days before the weekend. So these trees will be almost as fresh as if they had been our own.
If you wish a taller tree, 7/8 foot and above then we have plenty for you to choose and have cut.
We will look forward to welcoming you to your local Christmas tree farm.