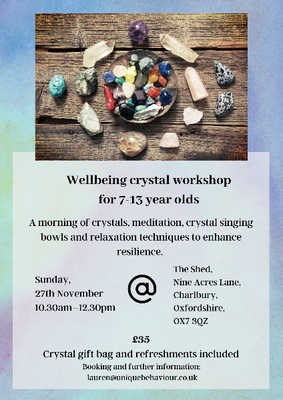 This event is in the past.
We're coming to Charlbury! 🎉
27th November. 10.30-12.30 @ The Shed.
Our workshops provide a space to share our love for crystals and practice valuable strategies to activate the relaxation response and reduce emotional overwhelm.
Feedback from our previous sessions:
"He loved it and said he wants to come back to every one. Finally he has a space to share his love for crystals!"
"She has just been telling me how much she enjoyed the workshop today. She said it was really really good and she loved the meditation too. Definitely be interested in doing another one."
"She absolutely loved it thankyou. She said you both made her feel so welcome & comfortable. She was pleased she came on her own so she could focus more. The breathing techniques were most beneficial. She's thrilled with the crystals you have given her & she said she'd love to do it again."
"The children had the best time, their favourite bit was the singing bowls, she also loved the venue and said the two hours flew by. I think the bag of crystals was the icing on the cake! xx
Booking essential.
Email lauren@uniquebehaviour.co.uk to book your space.