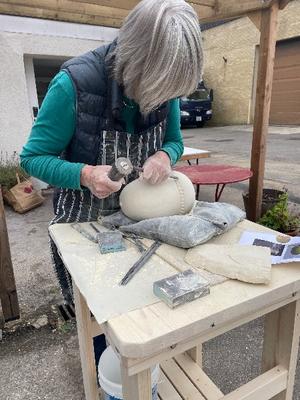 Friday mornings 10.15am-12.45pm January 6, 13 ,20 ,27 February 3,10
Friday afternoons 1.30-4pm January 6, 13, 20 ,27 February 3, 10  
Saturday mornings 10-12.30am January 7,14, 21, 28 February 4, 11 
Cost £160 for a course of six classes plus an additional charge for stone, at cost.
 In these workshops you will be working with blocks of natural limestone, and will be given enough guidance through the process of stone carving to complete a small sculpture.
Stone carving workshops will cover:
Discussion of preliminary ideas - if you have ideas of what you would like to carve do bring these with you, equally it is fine if you would like to wait and see what the stone suggests!
Demonstration of stone carving techniques and use of hand tools - mallets, chisels, rasps & sandpaper.
Working on own piece with one-to-one guidance at every stage, from 'roughing out' the basic three-dimensional form to completion.
Advice on finishing the surface of the stone.
No experience necessary and no pressure to create a masterpiece..but it may well happen!
Coffee/tea and biscuits provided
RAILWAY STUDIOS can be found next to Charlbury railway station. They are bright and spacious and there is parking. There is space to work outside, some under cover.
For more details and dates of upcoming workshops, please see my website: www.catherinebinnieartist.com or email me: binniecatherine@gmail.com