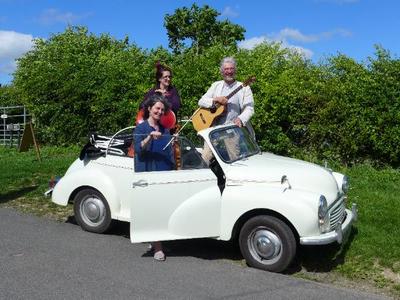 This event is in the past.
Who: The Boot Band, with support from The Hex Collective
When: 7.30pm, Friday 2nd December 2022
Where: Wilcote Art Studios, 4 Hunt's Copse, Wilcote Riding, OX7 3DX, just outside Finstock. (Good ventilation; distanced seating)
Earlier this year the Boot Band performed stunning sessions at Folk Weekend Oxford's 2022 Festival, and at Hanfest '22. The band's repertoire spans an eclectic mix of their own tunes, Susanna's self-penned songs, traditional folk songs, covers, traditional English and Eastern European tunes, and anything else that takes their fancy! After a 14 month break, we are delighted to be able to offer audiences an opportunity to hear them again.
The Hex Collective, increasingly in demand, features traditional songs as well as original compositions by singer-songwriter Jim Driscoll, and is known for a melodic and imaginative use of guitar, cello, accordion and voice. Wilcote Studios offer an unusually congenial location with excellent natural acoustics in a high-ceilinged, airy studio space.