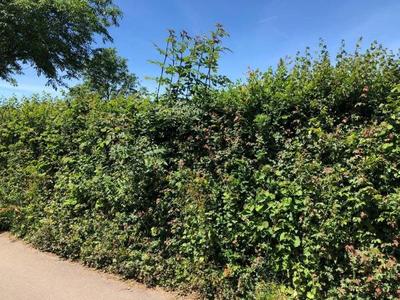 Would you like to help survey Charlbury's hedges? Come to a workshop on Sunday 3 July to learn all about this. 
Hedges are so important in our landscape as wildlife corridors and refuges for plants, insects, birds, reptiles and small mammals. The People's Trust for Endangered Species is running "The Great British Hedgerow Survey", a national survey which assesses the health and management of hedges. Charlbury is taking part, building on earlier surveys carried out in the parish, and we are looking for people to help.
Wild Oxfordshire is going to provide training, paid for by the Town Council, in how to carry out the survey, at two workshops on Sunday 3 July and Sunday 17 July. Both workshops will be held outdoors at a hedgerow site.
The first workshop is an introductory one, covering plant identification and surveying techniques. It will run from 12pm to 4pm. We will meet at the entrance to Woody Lane, just off The Slade, opposite Dancers Hill, Charlbury at 12pm. The second workshop follows on from the first, when we will put our learning into practice and look at how to carry the project forward. 
If you would like to help and are interested in joining the workshops, and for more details, please get in touch with Chris Beausire at chrisbeausire@btinternet.com, or with Christine Elliott on 01608 811057.
Also, for more information, here is a link to the article on Charlbury hedges that appeared in the latest edition of the Charlbury Chronicle www.charlburygreenhub.org.uk/contact-us/cgh-articles-in-charlbury-chronicle/charlbury-hedges.html