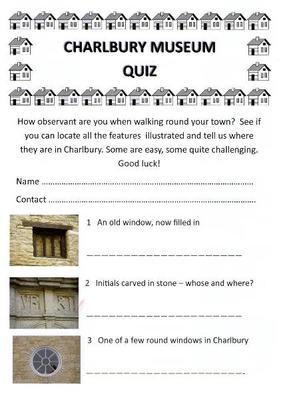 Would you like something for the whole family to do this summer? Or for you to do in a peaceful moment on your own? Then why not try our new Summer Quiz. As you while away the time walking round our town, test your powers of observation and see if you can find the features photographed. They all come from buildings in Charlbury and can be seen easily from the streets. They are not all difficult – though a few are.
Here is sneak preview of the first page. Can you identify any of the three?  There's more inside -20 in all.
Copies of the Quiz cost £1 and are available from the Museum. We are open Saturday morning from 10.30 to 12.30, and Sunday and Bank Holiday afternoons from 2.30 pm to 4.30pm. We will also be open all day on Saturday 18th September for the Street Fair, and hope to be open at other times during the Charlbury Festival weeks. 
The Quiz is not a competition as such –though you could try and see who does the best in your group –but a bit of fun for individuals and families. You can hand your entry in to us at the museum, or keep it. We will announce the answers at the end of September, publishing these on the Charlbury website and our noticeboard. We can also send you a copy by email if you leave your address with us.
So pop into the museum and get your quiz. We hope you enjoy doing it
Barbara Allison for Charlbury Museum
Our grateful thanks go to Tony and Judith Graeme who devised the quiz, and Judy Dod who has updated it and provided new photographs.