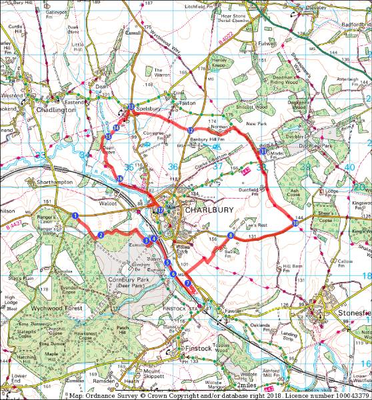 After having to cancel for a few years due to Covid restrictions Charlbury Town Council is pleased to announce the Parish Boundary Walk will be taking place again this year 
The start is at the lay-by at top of Forest Road (1) at 10.00 am and all are welcome.  There is no need to book just turn up on the day.   This is a chance to join in a centuries old tradition and to walk on paths not normally open to the public by kind permission of landowners.  Known as 'beating the bounds' this was formerly very important to ensure people knew where the boundary between one parish and the next was. 
Note The ground is uneven in places and goes through nettles and brambles so suitable boots and clothing are required. There is also a risk of Blandford fly so long trousers /insect repellent advised. There will be a stop for a lunch break at Ditchley Model Farm kind courtesy of Rob and Maxine Hobill so please bring a packed lunch.
This is a guided walk which follows the parish boundary through part of the Cornbury Estate, past Ditchley Farm  Return to Charlbury via Spelsbury
The complete walk is about 12 miles (taking around 6 hours including lunch) but you can leave and join the walk at various points
Cornbury Bridge (4) , Layby by Solar Farm (7), Saltway/ Woodstock Road crossing (10), Ditchley Farm (11) and Enstone Road crossing (12) – see map of route
If you would like more information or to offer help please leave a message.