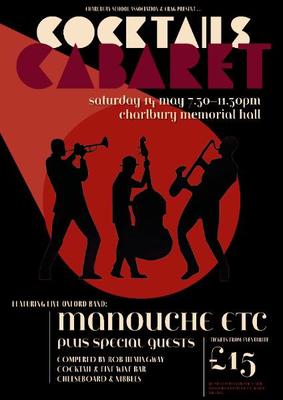 This event is in the past.
Come along to a fantastic live music event, 'Cocktails and Cabaret', being held at Charlbury Memorial Hall on Saturday 14th May, 7.30–11.30pm.
Compered by local legend Rob Hemingway, and headlining Manouche etc – a wonderful Oxford live band:
"Manouche Etcetera are a versatile new trio whose repertoire includes everything from fiery gypsy dances to curious klezmer and retro swing. Three musicians, in between moonlighting as a historian, a classicist and a theatre director, find themselves thrown together in Oxford by the fickle jazz-hand of fate…With tunes you'll know, others you won't, and some original material too, they'll take you everywhere from the sultry slums of Buenos Aires to 1920s London or Paris."
Here is a link to their website to give you a taste of what is to come:
https://www.manoucheetcetera.com/
Tickets are £15 to buy from Eventbrite. There will be a Cocktail Bar, fine wines and cheeseboards for sale.
https://www.eventbrite.co.uk/e/cabaret-and-cocktails-tickets-310344738467
Do come along and support generously. All proceeds will be split between the Charlbury School Association (CSA) who raise funds for Charlbury Primary School, and Charlbury Refugee Action Group (CRAG).