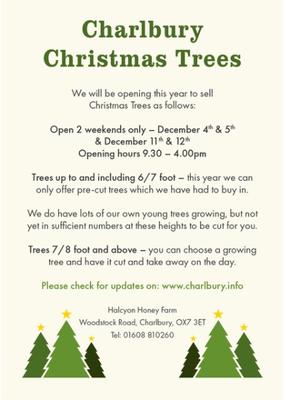 Apologies, to those who may have been watching for this event, for the delay in posting. 
 We will be open this year, BUT with some difference in operations to previous years. 
 We will be open for 2 weekends only: 
 December 4th and 5th, and 
 Dec 11th and 12th 
 Time - 9.30am - 4pm 
 We have plenty of taller 8/9 foot and above. However, although there are plenty of smaller trees coming on, they have not grown as quickly as we expected. So we currently have a gap – we simply do not have trees in the 4 to 7 foot height range available to cut. 
 This has presented us with a dilemma- to open or not to open?
 We know that a visit to us to get Christmas tree is now part of many families Christmas. When we did close one year previously, in 2012, many loyal customers were not happy and have not forgotten! 
 So we have decided to open – but we can only do this by offering pre-cut trees for those wishing a tree in the 4 foot to 7 foot range. These trees have been sourced from a national supplier with whom we have built up a good relationship over many years. 
 So we will be open. And you are welcome to come and wander as normal and for children to enjoy chasing and playing hide and seek. But if you wish a tree up to 7 foot in height you will have to choose from our selection of pre-cut trees. If you need a taller tree, 8 foot and above, you can still choose and have one cut. 
 We hope to see you in December. 
 A suggestion: Christmas trees do NOT like heat, but do like plenty to drink. Perhaps, it's time for a change in managing your tree. Why not initially put your tree in a stand in a cool location such as outside your front, or back door, and decorate with some battery operated lights? And then, after a few days, welcome it into the warmth in your home and dress it up for Christmas. And enjoy.