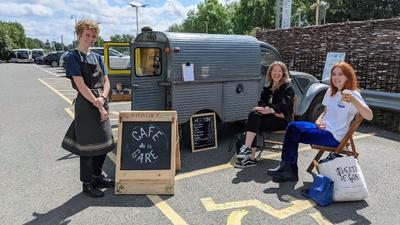 This event is in the past.
NOVEMBER 13th 14th & 20th 21st 
Saturdays 1pm-5pm  Sundays 11am-4pm 
-and by appointment until Christmas. 
CATHERINE BINNIE 
Sculpture-Painting-Drawing-Prints-Cards 
Details of stone carving workshops. 
For a selection of work in the exhibition please visit my website  - www.catherinebinnieartist.com
 binniecatherine@gmail.com 
MARTHA EVANS 
 Pottery - Hand-thrown, slip decorated, tableware and photography
Railway studios are large, well ventilated, and there is Parking .
Looking forward to welcoming you!
Come and join us for tea/ coffee and a mince pie 
CAFE DE LA GARE  (coming to Charlbury station shortly) are crossing the tracks for the weekend and are kindly offering proper coffee from their lovely van ..free!!
   www.artweeks.org